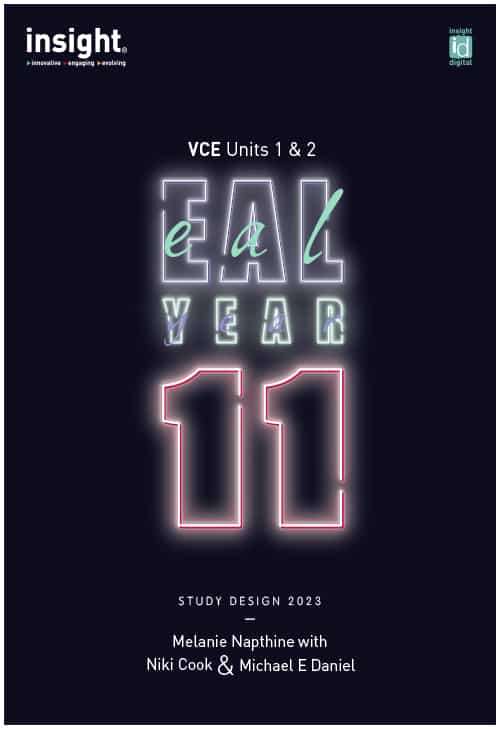 EAL Year 11: VCE Units 1 & 2 (digital)
ISBN: 9781922525932
RRP: $34.95
EAL Year 11: VCE Units 1 & 2 (print + digital)
ISBN: 9781922525949
RRP: $39.95
EAL Year 11 VCE Units 1 & 2
by Melanie Napthine with Niki Cook and Michael Daniel
Insight's new Year 11 EAL: VCE Units 1 and 2 is a practical and thorough resource providing comprehensive coverage of the new VCE English/EAL Study Design, to be implemented at Year 11 in 2023. Developed by highly experienced EAL teachers and assessors, this combined textbook and workbook is the definitive resource for Year 11 EAL students, laying strong foundations for success in Units 3 and 4.
This title presents practical strategies for preparing for assessment tasks, with clear guidelines designed to help students produce original, well-structured responses for all Outcomes in Units 1 and 2. It includes tools, tips, models, word banks and cloze exercises to assist in progressively developing students' listening, comprehension, analytical and expressive skills.
Supported by extensive bonus digital content, this highly practical resource distils key knowledge and skills development into an accessible and engaging format.
The book features:
Guidelines and models for responding to texts in different forms, including personal and analytical responses
Strategies and approaches for working with key ideas and mentor texts to create a variety of original texts
Tips for top responses that provide achievable and practical suggestions for improving students' marks.
Annotated high-level sample student responses for all assessment tasks
 
Updates:
8 April 2022 – Sample pages set 1 available for viewing.