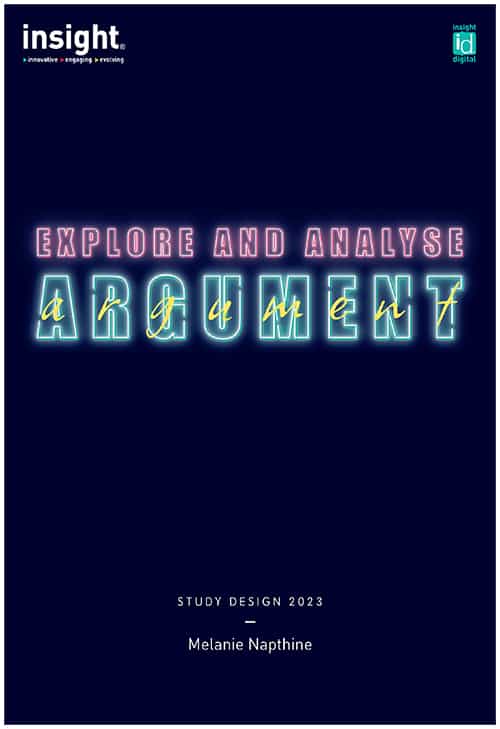 Explore and Analyse Argument (digital)
ISBN: 9781922525970
RRP: $34.95
Explore and Analyse Argument (print + digital)
ISBN: 9781922525987
RRP: $39.95
Explore and Analyse Argument
by Melanie Napthine
Insight's NEW Explore and Analyse Argument provides comprehensive coverage of Area of Study 2 in Units 2 and 4 of the new VCE English/EAL Study Design, to be implemented at Year 11 from 2023 and Year 12 from 2024. Taking a step-by-step, scaffolded approach to the development of written and analytical skills, this practical resource covers the analysis of argument and of persuasive language in a variety of media texts, supported by an extensive range of stimulating activities. Bonus digital supplementary material caters to a wide range of ability levels and provides further opportunities for students to hone their analytical and writing skills.
Drawing on the strengths of its bestselling predecessor Argument and Persuasive Language but with a fresh new approach, this innovative resource is designed to be used from middle years through to the end of Year 12. It provides clear and accessible explanations of all key knowledge, including metalanguage. With an emphasis on practical support, Explore and Analyse Argument also includes word banks, sentence starters, model sentences and templates, showing students how to write analytically about argument and persuasive language in print, digital, audio and audio-visual texts in a holistic way.
The book features:
Single-text and multiple-text scenarios, with sample student analyses
Guidelines for developing strongly structured and well-supported point-of-view pieces, with detailed advice for oral presentations
Advice and models for improving medium-level analyses and point-of-view pieces so that they exhibit the qualities of high-level responses
A diverse range of media texts in different forms on a variety of contemporary issues.