Insight's 2021 WACE ATAR English Trial Exam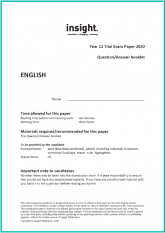 The 2021 WACE ATAR English Trial Exam features:
Original and authentic questions modelled on those in the end-of-year WACE exam for ATAR English
Complete sample responses for each question in Section One
A full response for one question in each of Sections Two and Three, with guidelines for answering the remaining questions.
WA Year 12 ATAR English Exam Practice
The ATAR English Exam Practice book features:
Twenty different Comprehending questions based on a variety of text types, including visual and multimodal forms
A range of stimulating Responding questions
Composing questions that allow students to practise creating texts in imaginative, interpretive and persuasive forms
Preparation strategies for each section of the exam
Advice about time management in the exam
Helpful hints for avoiding common misreadings, mistakes and pitfalls.
Contact Us
3/350 Charman Road Cheltenham VIC 3192
sales@insightpublications.com.au
About Us
Insight Publications is an independent Australian-owned company with over 45 years of experience publishing English resources for secondary teachers and students. We develop innovative, engaging and evolving English resources to challenge, to inspire and to enrich learning.
In the spirit of reconciliation, Insight Publications acknowledges the Traditional Custodians of country throughout Australia and their connections to land, sea and community. We pay our respect to their elders past and present and extend that respect to all Aboriginal and Torres Strait Islander peoples today.